Discover the Best Waterfalls in the Peloponnese
Sightseeing
Exploring Nature's Majesty: Discover the Best Waterfalls in the Peloponnese
Written by Scuba Turtles | 7 June 2023
Nestled amidst verdant forests and rugged mountains, these cascades provide a refreshing escape from the summer heat and offer a tranquil haven for adventure seekers. In this blog post, we will explore the five best waterfalls in the Peloponnese, highlighting their unique charm and irresistible allure.
Dive into the revitalizing waters of Messinia and immerse yourself in the natural beauty of waterfalls in Peloponnese.
1. Polilimnio Waterfalls
Located in Messinia, the Polilimnio Waterfalls are a hidden gem waiting to be discovered. This series of cascades is characterized by crystal-clear turquoise pools interconnected by small streams and lush vegetation. As you hike along the well-maintained paths, you'll be rewarded with mesmerizing views and the opportunity to take a dip in the refreshing waters. Polilimnio's natural beauty is unrivaled, making it a must-visit destination for anyone exploring the Peloponnese.
2. Kalamaris Waterfalls
Situated near the village of Schinolakka in Messinia, Kalamaris Waterfalls showcase nature's artistic prowess. These enchanting falls cascade down a rocky gorge, creating a symphony of gushing waters that reverberate through the surrounding landscapes. Adorned with vibrant flora and fauna, Kalamaris Waterfalls offer a magical setting for every visitor. Take a leisurely stroll through the lush greenery, and you'll find yourself captivated by this hidden oasis.
3. Neda Waterfalls
Close to the village of Figalia in western Messinia, we found this majestic waterfall that take its name from the nymph Neda, who was believed to bathe in its sacred waters. Surrounded by steep cliffs and dense vegetation, Neda Waterfalls provide a spellbinding spectacle as the water plunges into a serene pool below. Hiking through the verdant gorge, you'll encounter breathtaking viewpoints, ancient ruins, and opportunities for invigorating swims in the refreshing waters.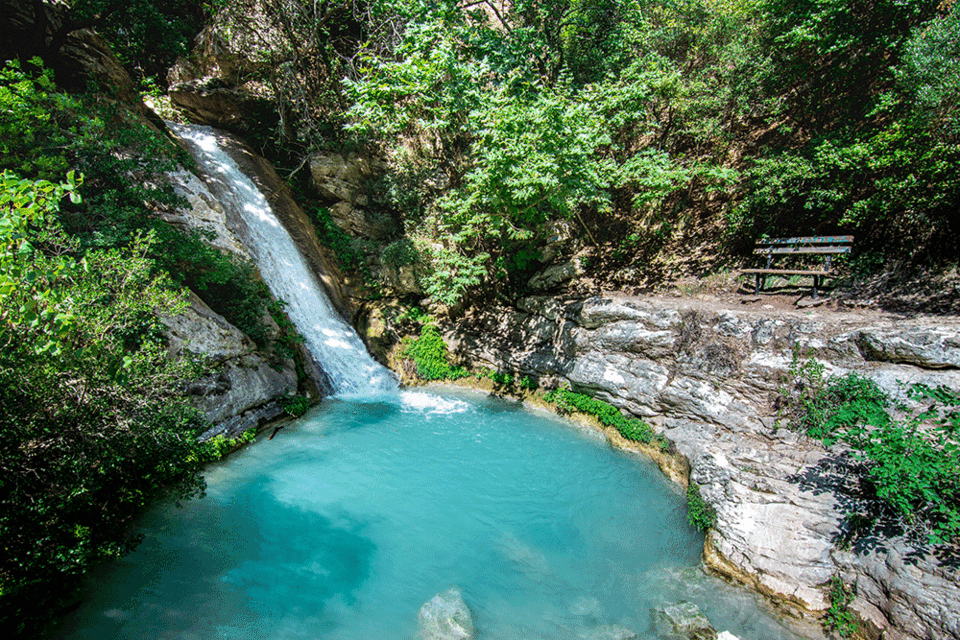 4. Nemouta Waterfalls
Located near the village of Nemouta in northwestern Peloponnese, the Nemouta Waterfalls will beckon you with their raw beauty. Surrounded by a captivating landscape of towering cliffs and dense vegetation, these waterfalls offer a true escape into nature's embrace. Embark on a scenic hike through the surrounding forests, and you'll be rewarded with breathtaking views of the cascades, their waters tumbling into clear pools below. Nemouta Waterfalls promise a rejuvenating experience that will leave you in awe of nature's power.
5. Valtas Waterfall
Located near Lagouvardos Beach, Valtas's waterfall is a nature wonder. The soothing sound of water, coupled with the lush surroundings, creates a magical ambiance that will transport you to a world of tranquility. It is a peaceful retreat for nature lovers. However, please note that during certain periods, there may be a limited or no water flow. It's always a good idea to check the latest Google Maps reviews in case someone has recently posted about the current conditions.
The Peloponnese region of Greece is blessed with a remarkable array of waterfalls that showcase the beauty and majesty of the area.